INTERPERSONAL COMMUNICATION SKILLS
Get to know more about your upcoming Workshop or 1:1 Coaching
Please come to the workshop with any challenges in mind you face when it comes to communicating with others. You will apply the techniques you learn in the workshop to improve your communication skills.
Refer to the below resources at your own pace. Our recommendation is to familiarize yourself with as much of our methodology as possible to maximize the time you have with your coach.
STEP 1: Download BEFORE Your Workshop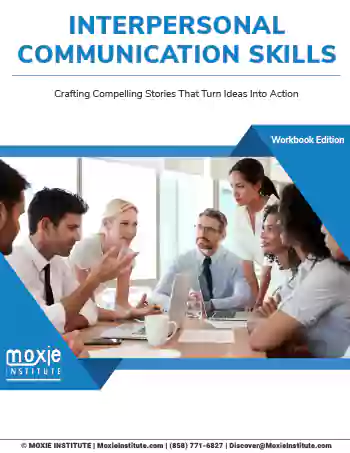 Interpersonal Communication Skills Workbook
This workbook includes skills and techniques to increase your virtual executive presence and speaking effectiveness. Be progressive. Get a head start now, and return to it throughout your journey.
Please download—you'll need this for the class.
STEP 2: Peruse Additional Insightful Resources
Interpersonal Communication Skills eBook
Learn how to develop critical communication skills that will greatly improve you professional and personal life. Through assertive communication, active listening, and powerful questions, you can uncover the nuances and insights needed to create win-win solutions and ensure every project is a success.
Interpersonal Communication Skills
Dive in deeper with virtual communication skills in our Interpersonal Communication Skills video playlist. In these videos, Fia Fasbinder guides you through techniques that will take your next virtual talk from boring to bravo. 
5 Proven Habits To Help You Become More Confident
Learn How To Stop An Anxiety Attack & Stay Calm
Improve Your Self-Worth, Self-Esteem, And Self-Confidence
7 Deadly Sins of Nonverbal Communication
Nonverbal Communication Tips To Exude Confidence And Authority
7 Tips For Confident and Assertive Communication
3 ways to change your voice to be assertive
10 Assertive Strategies & Statements
Become More Assertive Using Confident Nonverbal Communication