Get to know more about your upcoming Workshop or 1:1 Coaching
Please come to the Rehearsal Bootcamp with 5 to 10 minutes of a presentation, story, speech or script that you currently deliver or will be delivering in the near future. If you are not speaking in the near future, feel free to use something from the past. During the Rehearsal Bootcamp, you will have the opportunity to present your 5 to 10 minutes of content and receive feedback from a Moxie Master Trainer. Please be extremely familiar with the content so you aren't reading off notes or your screen and can truly present. Please note that these are general directions. If you are participating in a corporate workshop, you will receive more specific and detailed directions about which presentation to work on in the near future. If you do not receive those directions, please reach out to your team leader or organizer.
Refer to the below resources at your own pace. Our recommendation is to familiarize yourself with as much of our methodology as possible to maximize the time you have with your coach.
STEP 1: Download BEFORE Your Workshop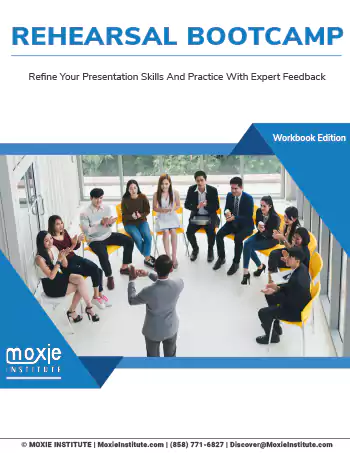 Rehearsal Bootcamp Workbook
Click on the link below to download and print your workbook. Please don't miss this crucial step as you will be using it in your upcoming workshop.
Please download – you'll need this for the workshop. This workbook can be printed and used as a hard copy or viewed electronically as an editable PDF.
STEP 2: Peruse Additional Insightful Resources
Moxie 2.0: Advanced Presentation Skills for Speakers
Dive in deeper with virtual communication skills in Moxie 2.0 video playlist. In these videos, Fia Fasbinder guides you through techniques that will take your talk from boring to bravo. 
Moxie 2.0: Overcoming Stage Fright and Speech Anxiety
Moxie 2.0: Speak with Confidence
Moxie 2.0: Command the Room